Opening Up Java EE: Panel Discussion
Server Side Java
Beginner/novice Level

Room 6

Thursday from 17:50 til 18:40

Oracle, in partnership with IBM and Red Hat, has announced its intention to move Java EE technologies to the Eclipse Foundation, following the delivery and completion of Java EE 8. The Eclipse EE4J top level project charter has just recently been published. Attend this session to hear from representatives of Oracle, IBM, Red Hat on the status of the project, what to expect over the next three to six months, and how this will benefit the Java EE community. Come learn how you can participate.

More panel members will be added shortly.

Java EE Next EE4J Enterprise Java
David Delabassee
David Delabassee is a Software Evangelist working in the GlassFish and Java EE Team at Oracle. Prior to that, he spent more than 10 years at Sun Microsystems focusing on Java end-to-end (from the smart card to the high end server) and the developer tools. He has been involved in Java projects since the early days of this technology. In his spare time, he enjoy tinkering and playing with technologies such as Java, Arduino, Home Automation, Linux, Pinball, etc.
Mike Croft
Mike is a support and services engineer for Payara. Mike has spent the last few years specialising in the non-functional aspects of middleware and likes to keep up-to-date with the latest products and solutions for production Java EE.
Mike now works for Payara supporting the community's use of Payara Server on GitHub, and supporting customers both remotely and on-site.
Mike blogs regularly on the Payara website and would like to stop talking about himself in the third person. http://blog.payara.fish/
Dimitris Andreadis
Dimitris has 20 years of experience in IT and he is currently the Engineering Manager of the WildFly / JBoss Enterprise Application Server team at Red Hat. He served as the JBoss AS project lead for several years and he has been a JBoss addict and contributor from the early start-up days. He worked previously at Intracom and Motorola in the areas of NMS/OSS, designing reusable frameworks and distributed systems. Dimitris studied computer science at the Technological Educational Institute of Athens and received an M.Sc. by research from University College Dublin, Ireland.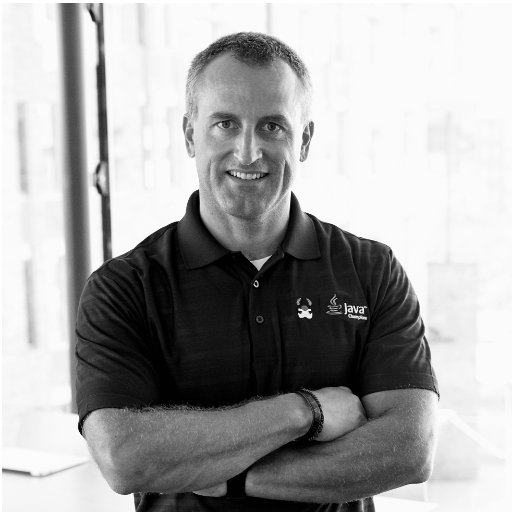 Ivar Grimstad
Ivar Grimstad is a Java Champion, JUG Leader and software architect focusing on Enterprise Java. He is participating in the Java Community Process as a member of the Executive Committee, Spec Lead for JSR 371 (MVC 1.0) and Expert Group Member for JSR 375 (Java EE Security API). Ivar is a member of the Eclipse Enterprise for Java (EE4J) PMC and involved in Eclipse MicroProfile. He is also a member of the NetBeans Dream Team.
Martijn Verburg
Martijn Verburg is the co-founder & CEO of jClarity - a Java/JVM performance tools company. He is the co-leader for the LJC (aka London JUG), from which he runs the global Adopt OpenJDK and Adopt a JSR programmes, two open source projects (PCGen and Ikasan EIP), and is a bartender at the Javaranch. You can also find him answering thorny questions at the Programmers StackExchange.
He's a regular speaker at conferences (FOSDEM, JavaOne, OSCON, Devoxx etc) and is the co-author of "The Well-Grounded Java Developer" (Manning publications).
Martijn was recently selected a Java Champion in recognition for his contribution to the Java ecosystem There are rumors that he might be the infamous Diabolical Developer, but that's clearly just a lie.
Roberto Cortez
Roberto Cortez is a passionate Java Developer with more than 10 years of experience; mainly the Finance sector. He is involved within the Open Source Community to help other individuals spread the knowledge about Java EE technologies.
He is a regular speaker at conferences like JavaOne, Devoxx, JFokus, and others, leads the Coimbra JUG and enjoys writing blog posts. He is very excited to be a Triber; he now has the opportunity to work on the servers where everything happens, instead of just developing applications that run in a container.
When he is not working, he hangs out with friends, play computer games and spends time with family.
Steve Poole
Steve Poole is a DevOps practitioner (leading a large team of engineers on cutting edge DevOps exploitation ) and a long time IBM Java developer, leader and evangelist. He's been working on IBM Java SDKs and JVMs since Java was less than 1. He's also had time to work on other things including representing IBM on various JSRs, being a committer on various open source projects including ones at Apache, Eclipse and OpenJDK. He's also member of the Adopt OpenJDK group championing community involement in OpenJDK. Steve is a seasoned speaker and regular presenter at JavaOne and other conferences on technical and software engineering topics.